A membership & community for mothers, early childhood educators & anyone wanting to soothe their soul with the magic of handstitching

Learn to hand sew treasures & keepsakes for a magical childhood!
our membership opens a few times a year. We will next open September 2023.
Jump on the waitlist to be notified!
are you craving more creativity?
do you lack time to dream up creative projects?
would you love to learn to handsew beautiful keepsakes for your children?
I'd love to guide you with curated projects to refuel your creative spirit!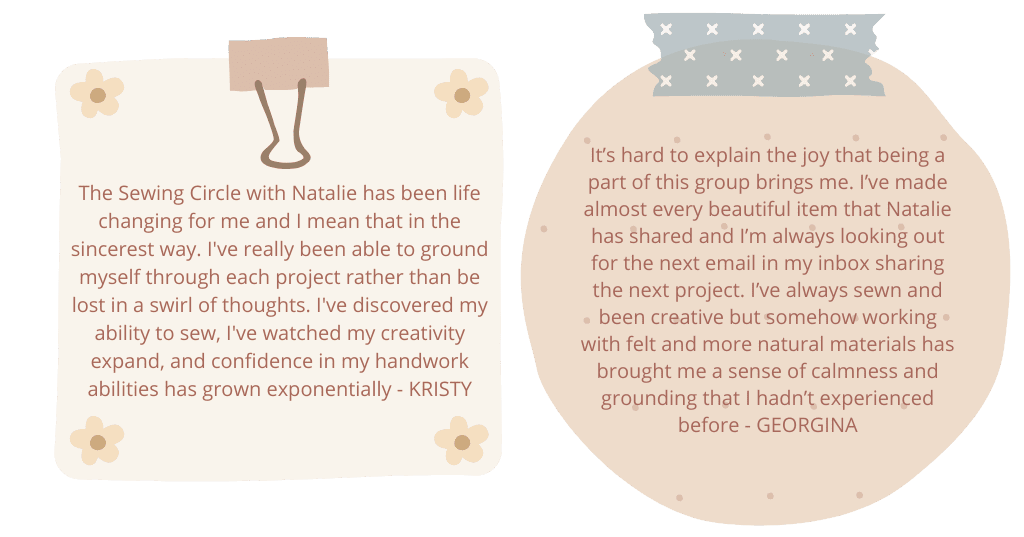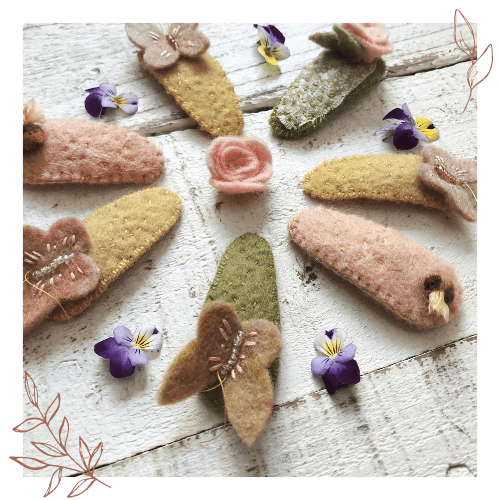 Imagine a space just for you to....
✨ To explore your creativity
✨ To Learn new hand sewing techniques
✨ To soak up Waldorf doll making tips & tricks
✨ To master working with wool felt and other natural materials
✨ To be inspired with beautiful projects to follow the seasons and to celebrate birthdays
✨ To connect with other women bringing handmaking into their everyday!
mama, author & creative maker
I'm a mama of 3 children and creative maker of all things magical, living in the beautiful hinterland on the east coast of Australia.
My ebook Magical Birthdays for Children: A guide to creating wholehearted & mindful celebrations has offered inspiration & creativity to thousands of parents around the world.
My interest in hand stitching started when I was a child - inspired by my mum and both my grandmothers who sewed....and I have been hand sewing little treasures of all kinds ever since!
I believe that prioritising our creativity is essential to our wellbeing & living a full & beautiful life....It's so easy for us to get caught up in the monotony of everyday (especially when we're in the season of motherhood) but I'm here to help you make time to nourish your soul with some creative making!
Women just like you, who have learnt the magical art of hand sewing
helped me grow creatively
"I've been a part of The Sewing Circle since it first began in 2021. It has helped me grow creatively in so many different ways and allowed me to be a part of a community filled with so much support, inspiration and magic. Since being a part of The Sewing Circle I have prioritised creative time for myself as well as developed my sewing skills and I've made so many beautiful things for my children. I love logging on each month and scrolling through all the amazing workshops, I'm always filled with so much inspiration."
Joining Natalie's circle has been the best gift I've given myself as a mama!
"The membership is packed full of whimsical workshops, everything your heart could desire! I love being able to search through the library finding the perfect project for the season, holiday or celebration. Natalie's tutorials are very easy to follow (I had minimal sewing experience prior) and quite quickly I was learning so many new skills and creating beautiful handcrafted treasures for my child.
Joining the circle has nourished my soul, filled me with so much confidence, given me permission to create time for things that light me up and has connected me on such a deeper level to the mother I want to be. Forever grateful!"
Natalie helps me see the beauty in simplicity, in the small things made with love...
"Natalie is like a kind friend, gently leading me to sew & create within the season of motherhood. One of the things I love most about the Sewing Circle is that I don't feel pressured at all - Natalie works so freely that you can do things your own way - the idea is not to master a technique, but to have fun and make beautiful things for our children. My daughter has loved everything I made for her so far.  The Felt Flower Crown was one of my favourite projects, it was a delight to make and my daughter looked so beautiful wearing it. 
Natalie helps me see the beauty in simplicity, in the small things made with love...this is not usual in such a loud world. I'm thankful for her, and for being part of this community."
I absolutely love being a part of The Sewing Circle
"I absolutely love being a part of The Sewing Circle - I eagerly check my inbox for emails from Natalie telling us about the next project!
Crafting brings me balance, joy and a way to remove myself from reality and Natalie's tutorials are so calming and easy to follow. Some of my favourite makes have been teeny tiny turtles, star babies, and standing dolls (I'm in love with my tangelo flower doll). I extend a huge amount of love and gratitude to Natalie for all the magical experiences she brings to the circle each month."
"I just love what each month brings"
Hi Natalie, may I just say, your sewing circle has brought absolute light into my life, and my sons, and my husbands! Thank you, I shall eventually do a post of all the goodies I've been making each month. I just love what each month brings, and your heartfelt chats are something I truly look forward to. And to think I couldn't sew 5 months ago! My dearest and oldest friend told me about your circle, and I trialled it for a month, and I just am so peacefully hooked now for the indefinite future! I love what you do. Much love, Alana
Alana 
"has been so amazing for my mental health & self esteem"
I just finished my cupcakes & wanted to show you the finished set! I have never been a sewer or remotely crafty since I found your Instagram a couple of months ago and now I'm absolutely hooked. My two girls are almost 2 and 8 months and both home with me - my time to myself is veryyyy limited at the moment. So the sense of accomplishment from learning new skills and making a little project from scratch has been so amazing for my mental health & self esteem. So thank you SO much!!
Sophie
The Sewing Circle Membership is for you if...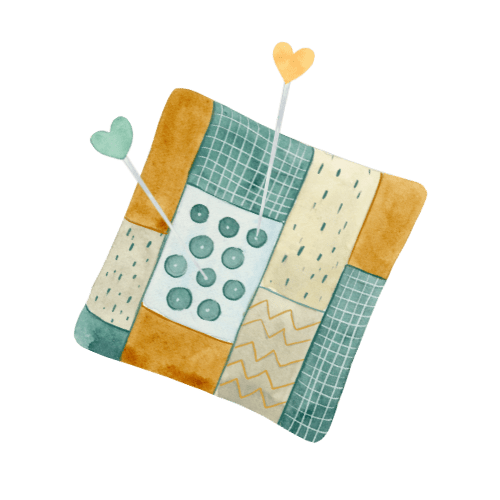 You'd love to learn to create whimsical handmade treasures with beautiful natural materials  - whether that be for your children, for your students, for gifts or for yourself.
You are a mother or early childhood educator and would love to keep your creative spirit alive and well!
You struggle with inspiration and love the idea of curated intentional & heartfelt treasures ready for you to create!
You love the connection and momentum that comes from being part of a community.  
You crave time to slow down, connect to yourself and delight in the simple joy of making something beautiful with your hands.
wondering what is included in the membership? ...
One NEW creative project is added to the membership each month (video tutorial). A whimsical treasure for your child (or to gift), to use in storytelling or something for yourself. Sometimes seasonal & sometimes simply what I'm inspired to create.  
Access to the creative project library
Get access to the comprehensive library of all the previous Sewing Circle projects - instant inspiration at your finger tips!
You'll have the opportunity to join in with our seasonal swap, that we host a few times a year. You will be partnered with someone in the circle and exchange a little pack of seasonal treasures via "snail mail". This could be a hand written note, some of your favourite fabrics, a little seasonal creation... whatever you feel inspired to share!
Come behind the scenes and see what I'm working on. These have been one of the favourite parts of the Sewing Circle to date. Let me share new projects I'm working on, tips & tricks and how I organise my supplies!
Receive a discount on Natalie's offerings outside of the Membership - such as the Make a Molly Doll workshop & the Happy Child Home Rhythms Course.
Access to my private podcast where I share all the things I'm pondering and exploring. These are raw & unfiltered sharings, that I hope will help you on your own journey through motherhood, creativity & connecting with your truest self.
Get help and encouragement on your sewing project. Unsure of which materials you need or feeling a little stuck with the project - I'd love to help you! You will be able to post your questions or pictures in the facebook group to get feedback.
Join an amazing community of like minded mothers & early childhood educators!  Sewing along with a group always makes a project more fun and keeps the motivation to actually finish.
Magical Hand Sewn Treasures
55+ beautiful projects accessible to all members
PLUS
Annual & Quarterly members get instant access to 6 bonus workshops!
(monthly members unlock the bonus workshops during the first 3 months!)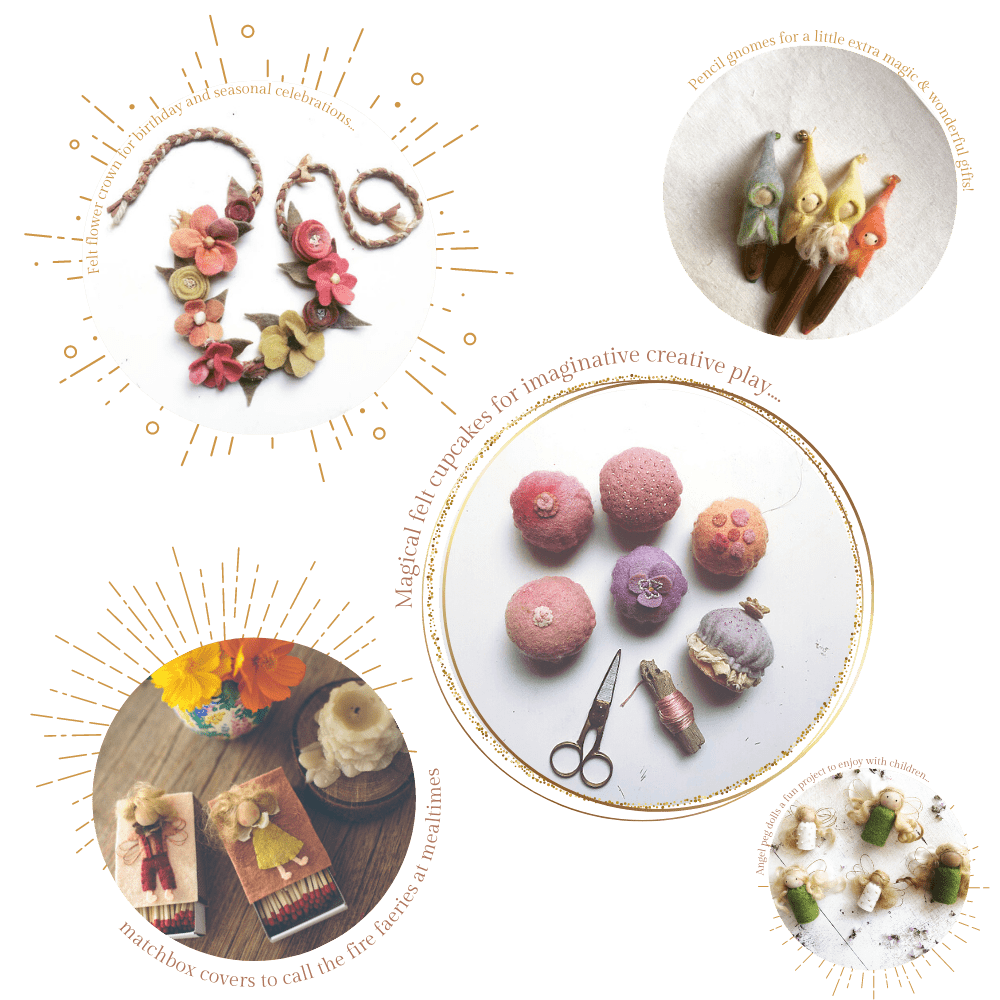 Choose between a monthly, quarterly or annual membership.
Each month one new creative workshop will be added to our private membership platform for you to dive into whenever it suits you.
Get access to the library of creative projects + Resources Library.
You can participate as little or as much as you like with our private group chat and seasonal swaps.
Need help with a project? Just post in the facebook group or email to get the support you need.
"This is what I've been looking for my whole life!"
Natalie I want to send you a sincere thank you for bringing this sewing club to life. As I sit here making a star baby, I am finding myself thinking, "This is what I've been looking for my whole life! Simple, lovely handmade gifts for family and friends that are beautiful and fun to make!" I'm thoroughly enjoying your workshops and the lovely wind chimes in the background of some of your videos! The sounds of the chimes are beautiful just like your projects! Thank you Natalie, very, very much!
Kristy
"I love the community of being among other creative souls"
When I saw Natalie's sewing circle it just touched that spark and I immediately signed up for her waitlist. I've been playing with felt/wet felt and watercolors on my own and with my daughter, but I love these tutorials! And I love the community of being among other creative souls! I've started with story dolls and hopefully I can get a few sweet little strawberries done in time for the kids Christmas stockings. Anyway, it's really lovely to be here with all of you!
Carie
Join our growing community of creative women!
So how much is it to join the membership?
Everything included in the membership is valued at over US$1400+
Our Membership is currently closed. Jump on the waitlist to be the first to know when we open!
We'd love to have you join us!
are you ready to learn the magical art of hand stitching?
"SO THANK YOU FROM THE BOTTOM OF MY HEART FOR LIGHTING THAT SPARK IN ME AGAIN."
"Thank you so much! I am so excited to create some birthday magic for my little girl. You didn't only gift me with the items but you have given me something much better, the inspiration to dive into my creative mind again and I am so happy! I am quite a creative person and since having my two little ones I had lost that part of me. So thank you from the bottom of my heart for lighting that spark in me again. "
Tia Michel, Mama of 2